Last Updated – December 12, 2022 – 12:59 PM GMT
Ultrawide monitors are becoming increasingly popular. Apart from the larger viewing area, many ultrawide monitors also have a high resolution. This makes them ideal for gaming and other graphics-intensive applications. Before diving into the best ultrawide monitors for all purposes, we'll try to understand ultrawide displays further.
What is an Ultrawide Monitor?
An ultrawide monitor is a type of computer display that is much wider than a traditional display. What's actually ultrawide is the aspect ratio. For example, even a 65-inch screen with a width of 52.3 inches, if it has a general 29.4 inches height, it is not considered an ultrawide monitor. And ultrawide monitor's width is generally 2.33 times greater than a standard 16:9 monitor if its aspect ratio is 21:9. See the difference:
The difference is even greater in the 32:9 ultrawide monitors, which are relatively newer. Ultrawide screen lets you see more of your work at once, making it great for productivity. Such monitors also have great gaming capabilities, as they can display more of the game world than a standard monitor.
Who is an Ultrawide Monitor for?
One who is looking for immersive gaming or movie-watching experience will definitely want to consider an ultrawide monitor. But competitive gamers can take the biggest advantage of it. A larger aspect ratio and view area give competitive gamers a significant edge. Not only can they see more of the game, but they can track opponents more easily and spot potential threats earlier. If you want to have more screen real estate to work with, an ultrawide monitor is also a great option. That means you can have multiple windows open side-by-side without overlap, or you can just have one really large window. And for day traders, an ultrawide monitor is a no-brainer, as it significantly enhances their ability of determining trend patterns.
Curved vs Uncurved Ultrawide Monitors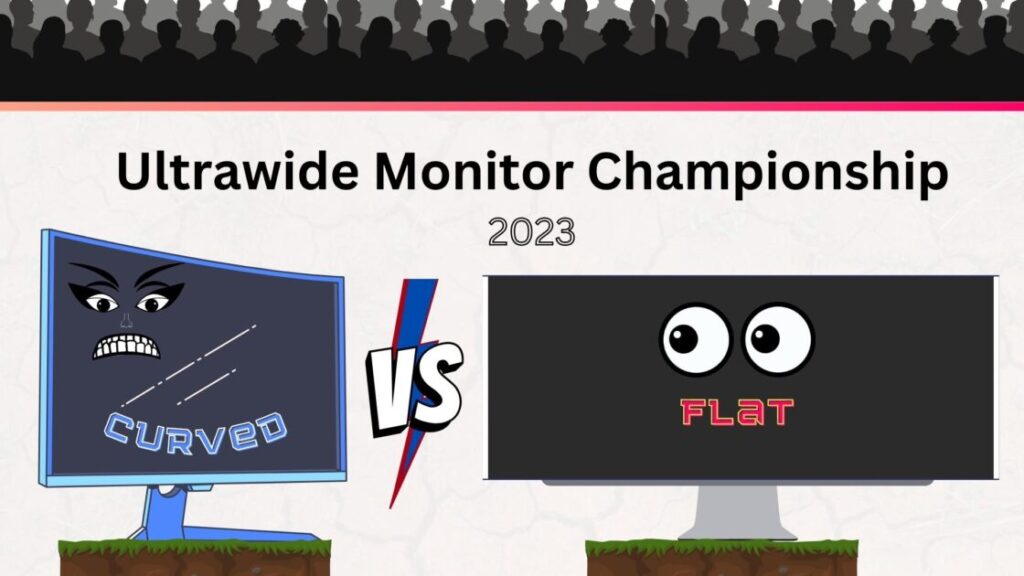 The purpose of the curve in an ultrawide monitor should be first understood. When you're looking at a monitor for long periods of time, your eyes have to constantly readjust to take in the entire screen. This can lead to eye strain and headaches. A curved ultrawide monitor eliminates this problem because your eyes naturally follow the curve of the screen.
Is a curved ultrawide monitor good for me?
If you do a lot of work with multiple applications open at the same time, a curved ultrawide monitor can help you stay more focused. The curved screen creates a more immersive experience that can help you better see all the applications you have open. If you're not sure whether you want a curved or flat ultrawide monitor, it's best to use a flat one straightaway. The benefit of the doubt goes to the flat screen. If you want a curved ultrawide monitor, you simply want it for an extra bit of immersion during creative tasks. If you are confused, you do not want those features at all.
Is a curved ultrawide monitor OK for office work?
The curve of a curved ultrawide monitor can cause problems when you're trying to line up multiple windows side-by-side. So, if you're looking for a monitor for office work, stick with a flat one. For example, if you need to have two Word documents side-by-side, it can be difficult to get them to line up perfectly on a curved monitor. But if your office work is something like graphics designing, video editing, or other creative work, a curved monitor can be more aesthetically pleasing.
Should I get a curved ultrawide monitor or a flat one?
If you're looking for a monitor for office work, it's best to stick with a flat one. However, if you do creative work or if you want an immersive experience, a curved monitor can be great.
And if it is for casual purposes, here are some things you should consider before deciding:
If you have a lot of desk space – If you have limited desk space, a curved monitor can be more difficult to position.
If you share your screen with others often – If you share your screen with others often, they may not be able to see as much as they would on a flat monitor.
How much you value image quality – Curved monitors can sometimes have issues with image quality, such as ghosting or screen tearing. So if image quality is precisely important to you, stick with a flat monitor.
How much you want to spend – Curved monitors are often more expensive than flat ones.
If you want to use multiple monitors – Multiple flat monitors are easier to line up than multiple curved monitors.
Vertical Ultrawide Monitors
Much different than a curved or flat ultrawide monitor, this type of monitor looks more like a giant smartphone. It can be changeable with how you position it and how you want to use it. This type of monitor is best for those who want to save desk space or have a more mobile workstation. It is like a desktop smartphone.
Such monitors are available in resolutions of 1440p and 4K. For starters, vertical ultrawide monitors are much more versatile when it comes to positioning and use. This is due to their unique design, which allows for more options when it comes to how you set them up. Additionally, vertical ultrawide monitors tend to offer higher resolutions than their flat or curved counterparts. This is especially true when you compare them to monitors with similar screen sizes.
Vertical ultrawide monitors are ideal for users who want the highest level of detail and clarity possible. Those who love smartphone displays are also seekers of such a monitor. Not only does this monitor saves desk space, but it also gives the user a mobile-friendly experience. Most casual PC users use smartphones more amounts than the PC every day. This monitor is easier to get used to.
How to Look for the Best Ultrawide Monitors?
The often-overlooked, yet a thing to look for when ultrawide monitors are the panel type. You'll want to make sure that you're getting an IPS panel. Higher refresh rates and higher resolutions are also great things to look for, but they don't mean much if you're stuck with a TN panel. Another important thing to keep in mind is the screen size.
Ultrawide monitors come in a variety of sizes, from 21 inches all the way up to 38 inches. It's important to find the right size for you. The size of an ultrawide monitor affects both the price and value. Last but not least, you'll want to make sure that the monitor has the right inputs for your needs. If you want to use it for gaming, you'll need to make sure it has a DisplayPort or HDMI input. If you're just using it for work or general use, you can get away with just about any input.
Here we have selected the best ultrawide monitors for each type of user:
LG 29WQ600-W – For Office Use (Budget Ultrawide Monitor)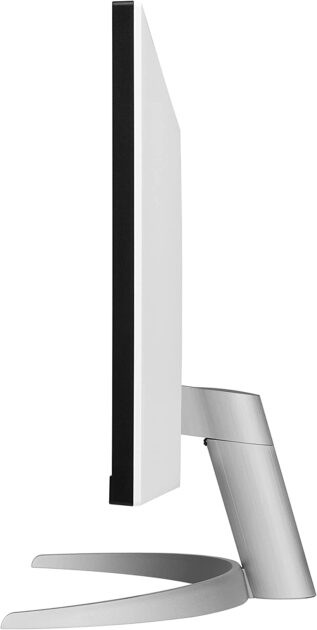 The LG 29WQ600-W is a 29-inch IPS LED monitor with a wide Quad HD resolution of 2560 x 1080 pixels. It has a fast 100 Hz refresh rate and AMD FreeSync technology. It also features a USB-C connection for fast and seamless connectivity to your laptop, desktop computer, and other external devices. The OnScreen Control software allows you to control various display settings with a single mouse click. The ultra-narrow bezel and tilt adjustment make it the ideal screen for a desktop setup. This ultrawide monitor is an ideal screen for budget-conscious office users who are looking for an upgrade from their current monitors.
INNOCN 34 – For Office Use (Mid-Budget)
The INNOCN 34 is a great choice for an office monitor because it has a large 34″ screen with a 21:9 aspect ratio. It also has a resolution of 3440 x 1440, which is higher than most monitors on the market at $450 price range. Although this ultrawide monitor is slightly more expensive than the LG 29WQ600-W, it would be a good choice if a flat display suits your office work or personal preferences. This monitor also features a height-adjustable stand and a tilt adjustment feature. Additionally, it has USB Type C, DP 1.2, and HDMI 2.0 + 1.4 ports, so you can easily connect it to your computer or other devices. The monitor also has a blue light filter to help reduce eye strain.

The SAMSUNG 34-Inch SJ55W Ultrawide Monitor has a variety of other features that make it a great choice for office use, including a tilt adjustment, flicker-free display, and split-screen capabilities. Also, a 34-inch ultrawide display for $290 is unreal. Not only does it offer great value for the money, but the performance is also great. The only drawback is that this is an older version. And the bezels are a bit thick. But other than that, it's a great monitor for office use. 4ms Response time is super-fast, and you won't have any issues with image tearing or stuttering thanks to AMD FreeSync. PBP/PIP and easy-to-use embedded split-screen software enable you to work on multiple office tasks at the same time with ease.
No, that's not a smartphone. It's easy to get confused due to its changeable vertical screen. Changeable means it can be reverted back to horizontal on wish. Mainly because of the high refresh rate, low input lag, and quantum dot display, the Samsung Odyssey Ark is a great display for high-end budget. If you are a casual user or just want to save desk space, or want to wow your friends, this vertical ultrawide monitor is worth every penny of its $2800 price tag.
If you are a programmer, there is no better choice than this. A vertical monitor is great for editing code and the extra-wide aspect ratio is perfect for viewing multiple files side-by-side. Codes like C#, C++, and Java will look fantastic on this display. If you are a web developer, the Samsung Odyssey Ark is also a great choice. The extra-wide aspect ratio is perfect for viewing multiple web pages side-by-side.
Viotek SUW49DA – Best Ultrawide Screen for Day Traders

The Viotek SUW49DA is a massive all-in-one solution that can replace your multi-monitor setup. It is a 49-inch curved monitor with a 5120 x 1440p resolution. The monitor has a refresh rate of 120 Hz and a 3ms OD response time. It also has FreeSync with LFC and G-SYNC support, and GAMEPLUS targeting crosshairs. The Viotek SUW49DA is also a beautiful dual QHD display that delivers images with phenomenal color reproduction and a 99% sRGB gamut. The monitor is also optimized to play and win with features that are designed to help you focus and win. For traders, this monitor can pretty much change the game. With it, technical analysis becomes easier with better pattern and trend recognition.
For $850, we could not find a better alternative for traders. This curved ultrawide monitor is a great value and investment for a day trader who occasionally plays PC games.
DELL S3422DWG – Best Ultrawide Monitor for Budget Gaming
The Dell S3422DWG is a great budget-friendly ultrawide gaming monitor. It has a large 34-inch screen with a resolution of 3440 x 1440, and a refresh rate of 144 Hz. The monitor also features AMD FreeSync technology, which helps to eliminate screen tearing and stuttering. The monitor has a slim, tapered stand that is easy to adjust, and it is also height- and tilt-adjustable. If you have $1000-$1500 in your pocket, go for a mid-range GPU and buy this one for $379. You can use lower graphics settings to get higher FPS and take advantage of the full 144 Hz refresh rate. Such a great monitor for the price.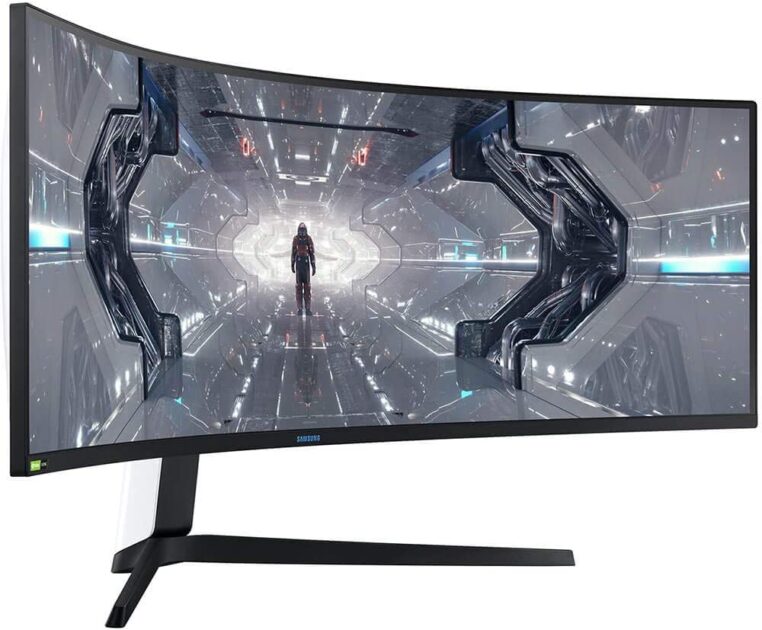 The Samsung LC49G95TSSNXZA Odyssey G9 monitor is one of the best monitors on the market for hardcore gaming. It has a massive 49-inch display with a resolution of 5120×1440, making it perfect for gaming on a high-end PC or gaming console. The monitor also has a rapid 240hz refresh rate, making it four times as fast as a traditional 60hz monitor. Additionally, the monitor supports NVIDIA G-SYNC and AMD FreeSync Premium Pro, ensuring that your games will always look smooth and tear-free.
Finally, the monitor has a customizable Infinity Core Lighting system that allows you to match the look of your monitor to the rest of your gaming set-up. The curved ultrawide monitor also has a whooping 32:9 aspect ratio that keeps games looking alive, even when you need to pause. Maybe the only concern is the price. But if you game for a living, $1,317 for this monitor is a good investment.
Related Post: Best Treadmills for Virtual Reality: Types and Features
LG 29UM59 – Flat Ultrawide Monitor, Barely for Gaming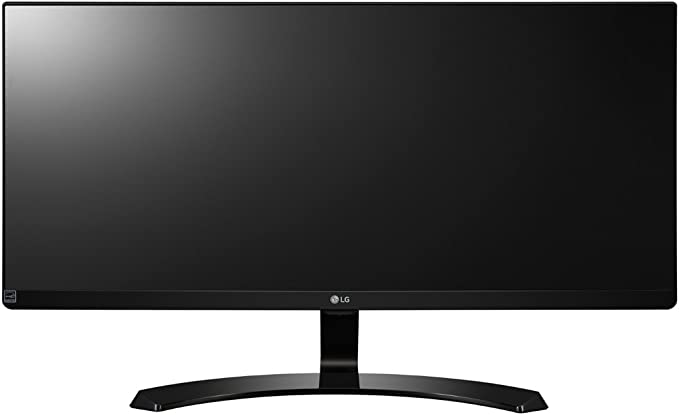 The LG 29UM59 is a great budget ultrawide monitor for gaming. It has a 29″ IPS display with a resolution of 2560×1080 and a refresh rate of 75 Hz. Also, the monitor possesses a number of features that are great for gaming, including a Reader Mode, Key Lock, DAS Mode, OnScreen Control, Game Mode, and Black Stabilizer. However, the 75Hz refresh rate shows its limitations in games like Fortnite. It also has a number of features that are great for gaming, including Screen Split 2.0, Smart Energy Saving, Six Axis Control, and Flicker Safe. The only significant downside is that it only has two HDMI 1.4 ports and no USB-C port.
This monitor is for two types of gamers:
1. Those who want a flat ultrawide display for gaming. Maybe for whatever reasons like the design, they don't want a curved display.
2. Those who want an ultrawide display to play games in 60 Frames/second, but don't want to spend much. This is a great value for $176.
LG 34WN80C-B (All-fit-in-one Ultrawide Monitor)
This $500 monitor is an all-fit-in-one solution. For example, if your computer only has one HDMI port, you can use the USB type-C to charge your laptop, connect to another monitor, and transfer data all at the same time. It also comes with a stand that is height and tilts adjustable. Plus, the display is a 34″ curved 21:9 aspect ratio that is WQHD and has an IPS panel. The sRGB color gamut is 99% and it is HDR 10 compatible. This monitor is a great all-in-one solution for anyone who needs an upgrade from their current display. The lower-mid budget ultrawide monitor is perfect for anyone who wants to game, work, or watch movies on a larger screen. Only if your eye is sensitive to curved displays, then this monitor may not attract you. For everyone else, it is a perfect combo of all aspects.
Bottom Line
For traders, gamers, office workers, and everyone in between, the benefits of having an ultrawide screen are impossible to ignore. We tried to choose the best ultrawide monitors for each type of user based on their budget as well as the monitor's unique features. Hope you liked the article!