Toy robots are still a classic staple of any kid's toy collection. The first robotic toy was created in 1954. However, we can say that the decade of 70s was when robot toys truly began to take shape. During that time, both the number and complexity of robot toys were increasing. The toys had a realistic design and sophisticated movements, making them more entertaining and also more educational. Furthermore, the materials used to create these toys were of higher quality, making them sturdier and longer-lasting. That was with the help of advancements in materials and technology. In the 70s, the electronic components had also become more reliable and affordable. In fact, the first programmable microprocessor, the Intel 4004, was created in 1971. Robot toys surely benefited from this heat of innovation in the 1970s.
Big Trak Robot Toy – 1979
In 1979, Milton Bradley Company released the Big Trak. And the robot toy was real big of a hit with its six-wheeled, two-wheel drive tank, keypad, and "photon beam" headlamp. It was the most advanced toy of its time, allowing users to program a sequence of up to 16 commands. Big Trak was a great teaching tool for young children to understand basic computer programming. With the 24-key keypad, users could make the tank move up to 99 feet at a time. Even big movies featured it, like E.T. The Extra Terrestrial. Big Trak was so popular that over two million units were sold. The toy robot cost $40, which is more or less equivalent to today's $150.
Shogun Warriors – 1977
Shogun Warriors were popular 70s toy line featuring giant robots based on anime and tokusatsu shows. The main reason for the toy's success was its spring-loaded weapons. It not only launched missiles but could also transform. For example, Raydeen could become a birdlike spaceship. Furthermore, features of the toy line reappeared in Jim Terry's Force Five series. People of all ages loved it but due to some safety concerns, the toy line was eventually discontinued in 1980.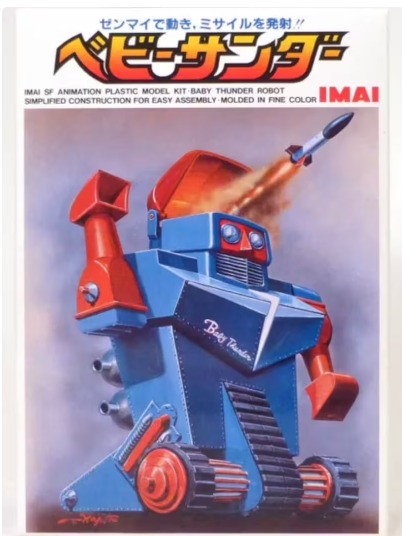 Robot Commando or Baby Thunder whatever you say; was a great robot toy in the 70s. It was not as popular as the previous two, but possessed a lot of entertainment. IMAI (the creators) had crafted this plastic model kit with a friction-powered motor and spring-loaded missile. The best thing about the Baby Thunder was its ability to move forward even after it had been powered off. The toy was also able to shoot its missiles in all directions, which made it a great hit with kids. The missiles were also capable of bouncing off walls, adding to the fun.
Robotron RT-2 Robot Toy
Robotron RT-2, the popular 70s battery-operated robot toy. Standing at 15in tall, it captivated children of the era. Battery-operated mechanism brought it to life. In the 70s, battery-operated robot toys were a sensation.In fact, my grannie had a Robotron RT-2, and it still works today! So long lasting, I have to say.
Cosmic Fighter Tin Toy Robot – Mid 1970s
The Cosmic Fighter Tin Toy Robot was a classic by Japan's renowned Horikawa Company. Asia, still in 2023, accounts for 50% of all the robots in existence. So, it is only normal to include this sensational Japanese robot toy of the 70s in this list. The 12-inch tall robot toy features a rotatomatic action with its spinning body. This not only entertains, but also reveals a gunner inside with flashing lights and shooting sounds. Its large claw-style hands and well-crafted design make it a unique collectible.
Alphie Toy Robots – 1978
The 1978 robot toy Alphie continued its popularity well throughout the 80s. It featured an input slot for interchangeable cards, and accompanying buttons on the front. This means children could play with it, learning math, spelling, and matching skills. It also played music – yes! At that time, music was more than a bonus; a phenominal way to keep kids engaged.
AHI Lost in Space Robot Toys – 1977
Lost in space robot toys have had a long story; from Remco's 12″ manually controlled robot in 1966 to Aquapolis's 6″ Friday in the 1970s. AHI's Lost in Space robot toy was introduced in 1977. It stood 10″ tall, with bump and go action, a blinking chest light and stop and go function. It featured stop-and-go action, a blinking chest light and three sound effects. Stop-and-go action means it could walk, turning the robot's head and arms as it moved. The blinking chest light and sound effects gave the robot a realistic and exciting feel. This made the AHI Lost in Space Robot a great addition to any child's toy collection.
Micronauts – 1976
The Micronauts were an innovative product, unique in their time. Their design was complex, featuring interchangeable parts and the ability to build creative, customized figures. Kids could mix and match parts to create unique figures and vehicles. The motorized vehicles and robots could move with the help of a wind-up key. From 1976 to 1980, Micronauts were a huge success, with millions of kids having fun playing with them. The figures also inspired a comic book series and a toy line.
Tomy Wind Up Robots – 1977
Tomy Wind Up Robots were very popular in the late 70s, and still remain a timeless classic to many. There were different versions of this robot toy; the boxing ones, golf ones, and who can forget Strollin Bowling? Kids used to collect multiple kinds of these, and loved to show off their unique collection.
Star Fighter Robot Toy
During the 1970s; star fights, wars, and stuff were all the rage. The Star Fighter Robot was more like a niche robot toy, mostly among action-minded kids. It had a unique design with a sleek body and flashing lights. Its movements and sound effects were so realistic for a 70s robot. The easy-to-use controller allowed kids to navigate the robot in any direction. In 1978, after the release of the Star Wars movie, the robot's popularity even further skyrocketed.
Bonus Article: Best DIY Programmable Robot Kits for Adults (For the 70s kids, who are now adults)
Bottom Line
I had to take help from my grannie to write this article, and it was definitely worth it. Hope you enjoyed learning about the robot toys from the 70s! Of course, we're reading this article in 2023, and things have changed. Autonomous robot toys, for example, are growing rapidly, and with expected CAGR of 18.80%, their industry could reach $22.9 billion by 2030. Today's kids are growing up with these amazing autonomous toys, and their future looks brighter. However, 70s kids will always be nostalgic about all these amazing robot toys from the good old days.