A big screen is a good fit unless it's too big for your desk. The average size of a monitor is 27 inches, and the largest one is 55 inches. In most cases, a larger display has more resolution, but not every time.
According to Comparitech, an average person spends around 7 hours a day looking at the screen. Only around 50% of web visits are from computers (laptops or desktops), and the other half use smartphones/tablets. However, the size of a desktop/laptop screen is far more significant than a mobile screen. And the benefits of a larger monitor become quite clear. Larger displays are good for gaming, watching movies, and most importantly, doing all those things at once. But multitasking is not the only need people buy larger monitors for.
Benefits of a Larger Screen
Here are the benefits of a larger screen for different users:
For gamers – Larger monitors give better image clarity. Both competitive and casual gamers benefit from a larger screen. For PvP games, a larger screen area provides a tactical advantage. The biggest advantage for gamers is being able to stay immersed in the game. Bigger the screen, simply greater the immersion level.
For professionals – Larger monitors make it easier to multitask. Professionals can have multiple windows open at once for easy access to the information they need. Also, a larger screen allows for more efficient use of office space.
For artists – A larger monitor allows for more precision in digital art. Artists can work on larger canvases and can draw and paint with greater detail. Furthermore, it's also easier to view artwork in its entirety, allowing for better evaluation.
For home users – Apart from a TV, home users may also use a monitor to watch movies, browse the web, and more. A larger screen allows for better viewing of movies, photos, and videos. And for multiple persons for use, a larger monitor is always more comfortable.
Lastly, for all types of users – Bigger monitors give a more enjoyable viewing experience. A bigger display is always better unless the pixel-to-size ratio is too terrible for your purpose.
Why not buy a larger TV instead?
There are very large screens in existence, the largest one being LG's 325-inch "Extreme home Cinema" TV. In fact, the average size of televisions ranges from 42 to 75 inches. However, they are still TVs, and can not be used as a monitor. TVs are optimized for video, not the graphical elements a monitor requires. TVs lack features like higher refresh rates, low input lag, and adjustable resolution. So, if you're looking for a large screen for your computer, you'll need to buy an actual monitor. Monitors offer superior image quality, and are far more responsive, making them the better choice for gamers, professionals, and anyone wanting the best PC experience.
Here are the largest monitors of each resolution, sorted by the resolution's popularity among people:
Largest 1080p Monitor – AOC C32G2E 32"
Dimensions – 20.65″ x 27.95″ x 9.64″
AOC C32G2E monitor is the largest 1080p monitor around, with a diameter of 32 inches. Its frameless 3-sided design ensures a great viewing experience. In general, a resolution of 1920*1080 is not enough for 32-inch displays, especially monitors. However, this one has a contrast ratio of 3000:1 and a response time of as low as 0.50ms. The refresh rate of 165Hz with AMD FreeSync cancels out the poor pixels-to-screen-size ratio. Furthermore, the curved display is 1500R with a 178° angle in both directions. This means that the monitor covers almost any viewing angle.
Honorable mentions of 32-inch 1080p monitors – Dell S3222HG, Samsung LC32R500FHEXXY (curved), and LG 32GN550-B.
If you consider a 3840*1080 monitor as 1080p too, then the INNOCN 44C1G's flat ultrawide screen is the largest one with a diameter of 43.8 inches.
Dimensions – 15″ x 46.3″ x 43.4″
The SAMSUNG Odyssey Ark is something we have discussed already in our previous article about the best ultrawide monitors. Apart from the crown of the largest 4k monitor, this heavyweight is also the largest curved ultrawide monitor and the largest monitor in the market. This time, we are emphasizing its size.
The Odyssey Arc boasts a 55-inch display with a 1000R curvature that wraps around your vision for maximum immersion. The monitor's 1ms response time, pretty good for such a large monitor screen, eliminate lag for ultra-smooth action. Again, that lag is inevitable even in an 8k TV larger than this one. Furthermore, the monitor has a multi-view feature, allowing for up to four screens at once, all on the 55-inch ultrawide screen. Now, a larger screen means difficulties to get that same image quality as in a 24-inch 4k monitor. But, the Odyssey Ark manages to maintain its high quality 1,000,000:1 contrast ratio, enabling enhanced color expression and depth. This, to its best extent, is supported by HDR10+ gaming to show you every detail that could lead to victory.
Largest 720p monitor – Dell E198WFPv 19″
Dimensions – 21.69 x 17.91 x 15.83 inches
In the early-mid 2010s, there were a lot of 720p monitors 24 inches or larger, such as the Cielo TE24T7H 24. However, as displays kept getting better, it became easier to create 1080p or 1440p monitors for similar production costs. So, companies shifted their focus towards higher resolution. As of now, the largest 720p monitor you can buy is the 19-inch Dell E198WFPv. If you are buying this monitor, you're probably tight on budget. Currently, the product costs $88 on Amazon.
There are some larger products that look like 720p monitors at the first glance. Like the 24-inch Sceptre E246BV-FC, which looks like a monitor, but claims to be a 720p TV: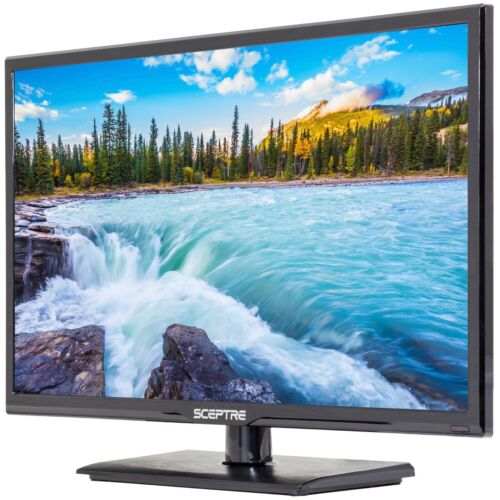 And the 22-inch ASUS VW224U, which claims to be a 720p monitor in the title, but has a resolution of 1680 x 1050:
We can only consider a monitor with a resolution of 1200*700, or 1366*768, as 720p.
Quick tip: If your monitor has a low resolution or a lower resolution for its size, AMD's sharpening technology can make up for it to an extent.
Largest 8k monitor – Dell UP3218K 32″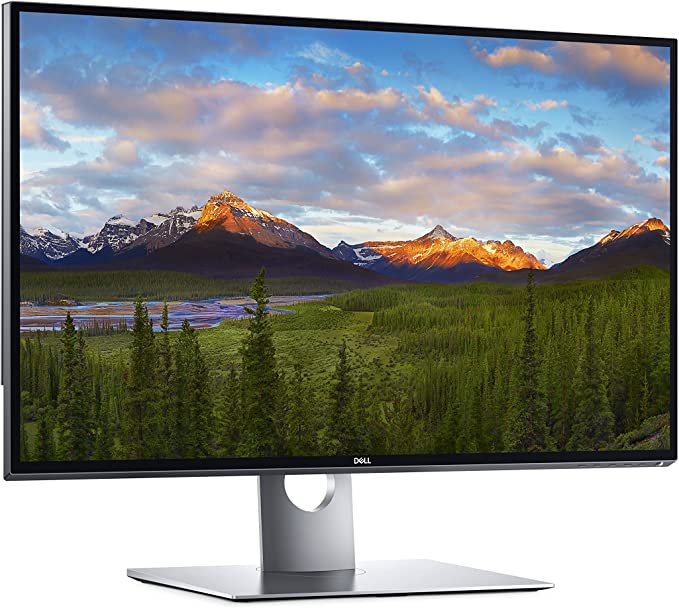 Dimensions – 28.37″ x 8.7″ x 24.32″
When you hear of an 8k monitor, your first reaction would be "for real?!", instead of just being overwhelmed by its size. The 32-inch Dell UP3218K provides a massive 7680×4320 (8k) resolution. All those pixels manage to fit into the 32-inch screen, which means that the pixels-to-size ratio is far better than any monitor in existence. After being launched in Nov. 2017, Dell UP3218K has not been the people's choice, except for those who simply need an 8k monitor at any cost. It is one of the handfuls of 8k monitors, as not many companies produce 8k monitors. That's due to the fact that 4k is far enough for any human eye. So, unless we invent some super-eyes or something like that to view higher resolutions, monitor companies will keep on producing larger 4k screens, rather than upgrading to 8k.
It's a fact that the UP3218K has not performed well in the market. Yes, the monitor does have a rating of 4.2 out of 5 in DELL's store, and 3.5 in Amazon. It's not that people do not like this 32-inch 8k display, but that there are larger 4k monitors available for half the price, with no sacrifice of viewing quality. And people simply go for the latter.
Bottom Line
Any time you buy a monitor, consider the features and the pixel density for its size. In the article, we have discussed the largest monitors of each resolution available in the market. As you saw, there are also ways to over-pay, like for the DELL UP3218K's useless 32-inch 8k screen. For those on a budget, a 24-inch 1080p screen does the job pretty well. For current games, needs and trends, the safest choice is a 4k monitor of any size.