Last Updated – November 21, 2022 – 09:33 AM GMT
Introduction
A treadmill made for Virtual Reality does not have the same function as a regular one. A person using a VR treadmill can control their speed and direction in the game by walking or running on the machine. Some VR treadmills are made for 360 degree movements, while some are for moving forward or backward. The machine itself is not motorized.
Using treadmill can be a tiring virtual reality experience, and gets you closer to your tiring real life. Casual gamers who use VR just to take a break from the real life often prefer to use a controller instead. There is no right or wrong way to play VR games. However, there is something called a degree of immersion. And that's why VR treadmills exist in the first place.
Why Virtual Reality Treadmills over normal VR?
Again, remember the purpose of VR. It's to create an immersive experience that makes you feel like you're inside the game. And the ultimate goal of VR is to take the immersion into next level. But how? The very primary requirement for that is body movement. And that is only possible with a VR treadmill.
Now that we know the purpose of a VR treadmill, let's talk about its features:
360-degree movement: This is the most important feature of a VR treadmill. Most of the VR games require you to move in all directions. That's why aone with 360-degree physical movement is the best.
Adjustable speed: The speed of the VR treadmill can be adjusted according to the game you're playing. For instance, if you're playing a slow-paced game, you can adjust the speed accordingly.
Portable: At the present, very few lightweight VR treadmills are designed to be portable. It's like a portable home, a portable playground, or a portable battlefield. Whatever you like to call it. This feature is going to be important for VR Treadmills in the future.
Why Virtual Reality Treadmills over a normal Treadmill?
A treadmill is just a piece of fitness equipment that you use to walk or run. A VR treadmill gives you the ability to control your speed and direction, which makes it a lot more fun and exciting. And guess what, some VR treadmills are less expensive than a normal old treadmill. Among a ton of other reasons, that's why a lot of people are choosing VR treadmills over a traditional one. And yeah, it's better than just walking. Treadmills are already a form of Virtual walk. There is no single reason to not have a VR Treadmill.
However, you should take precautions while using one. For example, people with heart conditions should not use a VR treadmill. VR treadmills can get you confused with the real world. While this does not seem to be that big of a problem, super-realistic VR graphics can still create some serious issues. For example, using VR treadmill, you might think you are about to hit a wall and try to avoid it. But, in reality, you might just crash into the wall and hurt yourself.
The average size of a treadmill is around 64 inches long and 28 inches wide. Virtual reality treadmills are generally similar in length, but broader.
The average price of a Virtual Reality treadmill is $2,000. There are different types of VR treadmills, and we have selected best of each type.
1. Skywin VR Mat, Round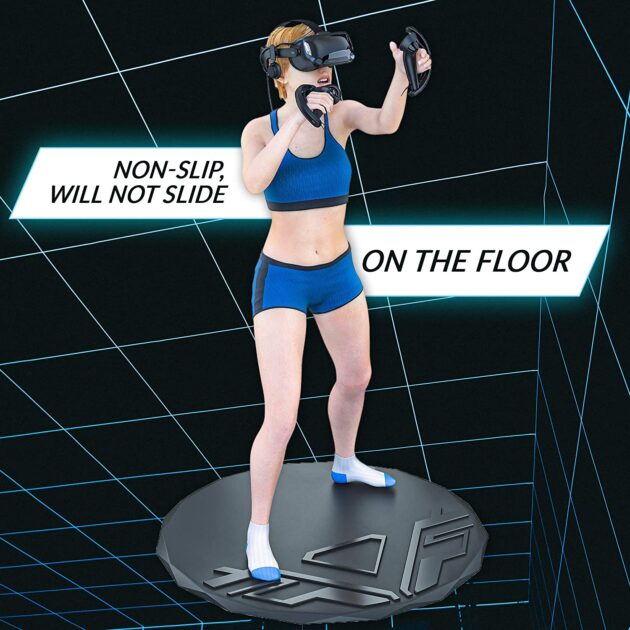 1. About the product
The Skywin VR Mat is a product designed to increase comfort and safety while playing virtual reality (VR) games. The mat is made of a soft, anti-fatigue material that cushions the feet and reduces fatigue. It also has a non-slip surface to prevent slipping and sliding. The mat also features embossed shapes at the front to help determine direction.
2. Who this product is for
This product is for those in budget, who want to increase their comfort and safety while playing VR games.
3. Who this product is not for
Skywin VR Mat is not for people who do not want to spend money on a VR mat. Also, it is not for those expecting a complete walking experience while playing VR games.
4. Price-to-value ratio
The Skywin VR Mat is fairly priced at $68. It is a well-made product that offers a lot of value. Not only because of its comfort and safety features, but also because it can help you stay centered and balanced in the game.
5. Pros
– Cushions the feet and reduces fatigue
– Prevents slipping and sliding
– Helps determine direction
6. Cons
The diameter of the mat could be larger. Something like 41″ would be more comfortable for most people.
2. Virtuix Arenas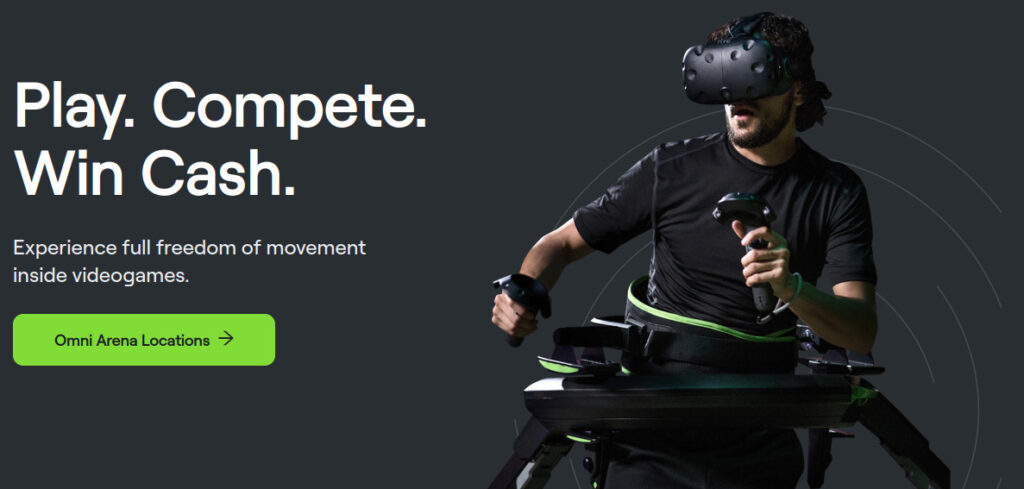 You don't need to own a VR headset or a treadmill to play. Virtuix's Omni VR arenas provide stations for players to come in and enjoy the experience. They are distributed throughout the United States. You can also compete for a chance to win money. The pro of Virtuix's VR arenas is that it that it is affordable to use – you don't have to buy a big whole VR treadmill. The con is that you have to go to one of their locations to play.
Recommended Read: What if you fall asleep inside Virtual Reality(VR)?
3. Infinadeck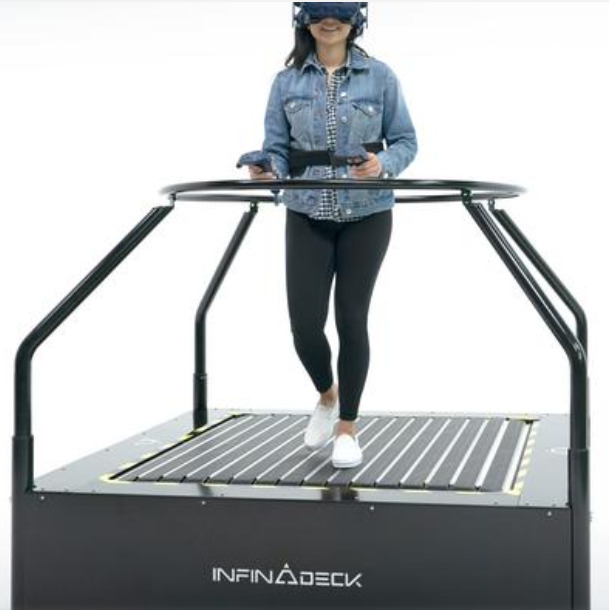 Infinadeck isn't available for everyone just yet. But its features are quite impressive.
A 360-degree moving floor gives users natural movement in any direction, allowing them to explore virtual environments with ease.
The active wireless control system keeps users safe while they move about, and no special equipment or hardware is required.
Native integration with your VR OS means Infinadeck will work with any existing VR content.
Multiple units can be linked together for shared experiences.
According to Ken Bossung, the CEO of infinadeck, the company has sold units to the US Army, US Navy, US Air Force, Food and Drug Administration (FDA), and large medical facilities. The clients are in Europe, The US, and in Australia. The main advantage of the Infinadeck is that it offers true natural locomotion. With it, you can walk like in real life to walk in VR. Making it available to the general public has been the goal of the company since day one, and they are getting closer to it. The current version of the Infinadeck is big, heavy, and far from being affordable.
4. Octonic VR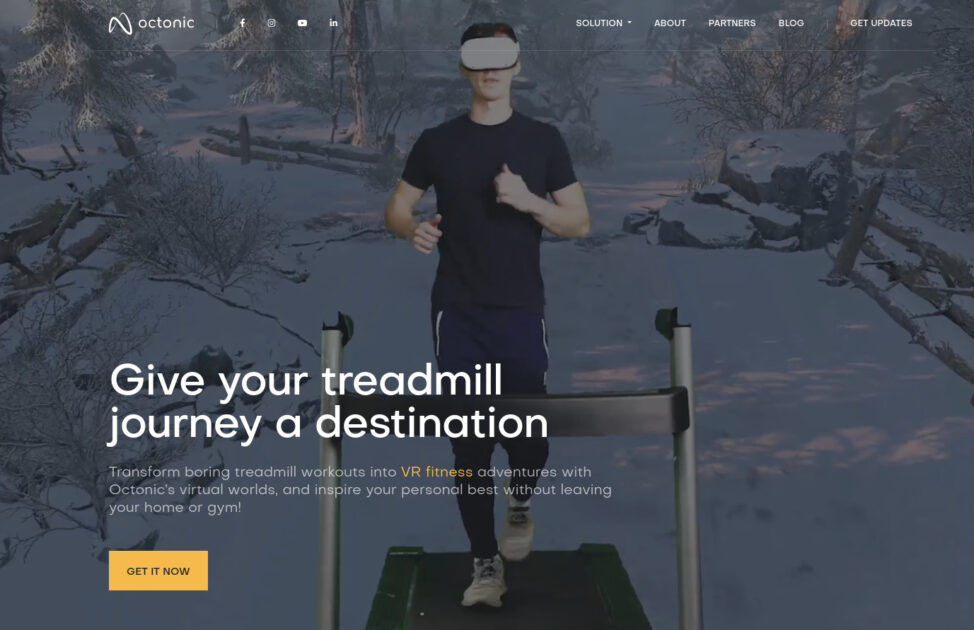 Octonic VR is a virtual reality fitness software that allows you to workout in various virtual worlds. This software creates a simulation for a perfect virtual reality treadmill setup. It is compatible with Oculus / Meta Quest 2 VR headsets and most fitness treadmills. Octonic VR smart software consists of a VR Motion Engine and a VR Content Library. You can choose between multiple paths and control your speed and how far you go. For people who want to add some excitement and destination to their treadmill workouts, Octonic VR is a great option.
To be more specific,
Octonic VR is perfect for those who:
Want to be transported to various virtual worlds while working out
Seamlessly navigate Octonic's virtual menu with the hand-tracking system
Compete and explore with realistic visuals, interactive virtual reality worlds, and AI runners in the game
Start exercising in a matter of seconds
Octonic VR is not for those who:
Do not have a compatible VR headset
Do not have a compatible fitness treadmill
Although Oculus / Meta Quest 2 is the recommended requirement, any mobile VR headset that delivers high performance and comfort should work with Octonic VR software.
The suggested treadmill to use with Octonic VR is the Hydrorider Easyline Treadmill. One of the key things that makes the Hydrorider Easyline Treadmill so great is its shock-absorbing platform. This is thanks to the 308 individual rotating rolls that are over a flexible, shock-absorbing support platform. For a price of $2,540.00 and weighing only 68 lbs, the Hydrorider Easyline Treadmill is a great buy for those who are looking for an easy and joint-stress free way to get their aerobic fitness done in VR.
5. Kat Walk C 2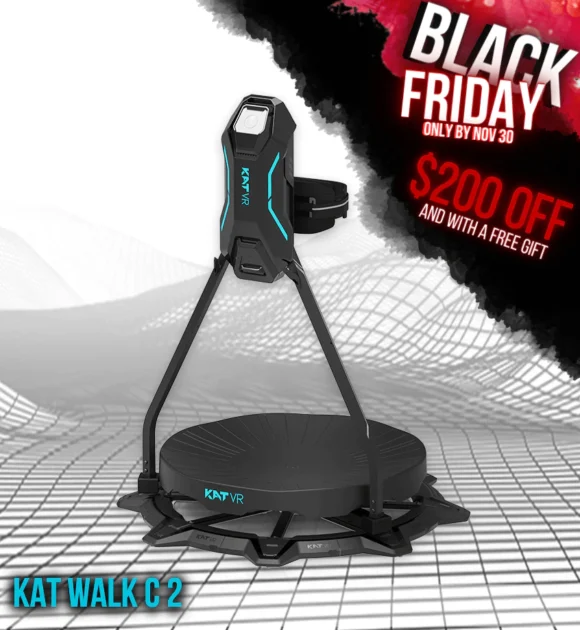 The KAT Walk C 2 is a 2nd-generation personal VR treadmill that is designed to unlock all physical actions in free locomotion games across different platforms. It provides 360 degrees of infinite and natural movement in VR from a single spot, and enables the missing ways of intuitive human-VR interactions. The C2 is designed to fit right into your gaming cave and become a central point of your VR experience. The VIrtual Reality Treadmill also has 1:1 real time locomotion control. It means that your in-game avatar will move exactly the same way that you do in real life.
It is perfect for those who want to immerse themselves in the game and get the most out of their VR experience. To be more specific, it is designed for those who want a realistic exploration of the virtual world without any limitations. It is also great for those who want to conveniently fit their VR treadmill into their home.
However, this Treadmill is not for those who are not interested in VR or who do not want to invest in a VR treadmill. Yes, it means that if you want to buy a VR treadmill, this is the one to choose. It is affordable in terms of price. Furthermore, it is available for purchase right now, and in countries including the USA, Germany, Austria, Denmark, Sweden, and Finland. If you are not from any of these countries, you can contact them for price and time estimations.
Bottom Line
The next time you are looking to buy a VR setup, consider a VR treadmill. It's definitely worth it. In fact, it is worth buying a cheaper VR headset to save for a better treadmill.