The demand for educational technology (EdTech) jobs has increased with growing EdTech industry. The global EdTech industry is expected to expand at a compound annual growth rate (CAGR) of 16.5% from 2022 to 2030. Educational institutions are now incorporating technology in the classroom more than ever. This surge in the industry has created a need for skilled individuals in this area.
Should you consider non-education-specific platforms for an EdTech job?
Non-education-specific platforms like LinkedIn or Reed.co.uk look like a great place to start your job search, but they don't always have the best selection of them. As of 28 October 2022, LinkedIn has 24,000+ Jobs related to Education Technology. One thing is that it is tough to select the best one. In addition, EdTEch is such a specific field, with a lot of jargon, that you might want to use a board that's specific to the field and will have a wider selection of jobs, as well as jobs that are better suited to your skills.
Edutech platforms are constantly being updated with new resources and job postings. This means that you can be sure that you are seeing the most up-to-date information. Also, education-specific platforms usually offer a variety of features that can be helpful when you are job searching. For example, many platforms allow you to set up job alerts so that you can be notified as soon as new jobs that match your criteria are posted. Non-education-specific platforms may not have the same level of frequency when it comes to updates. This means that you could be missing out on new job postings.
If you are looking for a career in educational technology, here are some of the best places to look for jobs.
1. Online EdTech job boards
There are many reasons to choose an online EdTech job board. The first is convenience. You can search for jobs from anywhere in the world. You can also apply for jobs and get interviews without ever leaving your home. Such job boards are a great way to network; You can connect with other professionals in your field and learn about new opportunities. And, I've selected the best one for you:
The way EdSurge's EdTech board is organized makes it easy to find jobs in specific categories, such as keywords, design, and location. I believe this is one of the better EdTech job boards in the space since it's specific to EdTech. Here are some benefits I've found to using EdSurge:
You can filter job postings by keyword, company, type of position, and location
Its excellent weekly newsletter gives you a rundown of all new job postings, as well as other EdTech news
Access to the most cutting-edge information and trends
What it lacks?
Proportion. The platform doesn't consistently include job opportunities from smaller start-ups and organizations. Furthermore, there is real difficulty in figuring out a profitable business model.
2. Non-profit organizations
Non-profit organizations are active in education reform and are working to improve the quality of education for all children. They are always in need of individuals who can help to implement change through the use of technology.
As I worked there as an entry-level employee, I can attest that ISTE is a great place to start your job search in EdTech. They have supportive and flexible management, and good training for entry-level professionals wanting a first experience in office work. The ITSE team is one of the most innovative people in the Education industry. In fact, their environment is so good, I can't emphasize it enough.
What it lacks?
There is no option for career development within the company. As somebody who wants to move up their career ladder, ISTE wasn't the place for me.
3. Educational institutions
Many educational institutions are in need of individuals who can help to implement and maintain technology in the classroom. You can contact these institutions directly to inquire about open positions. My bet is to look at larger school districts in your area.
There are a few ways to find educational institutions that are hiring for educational technology job positions. The most common method is to use an online search engine, such as Google, and search for "educational institutions hiring for educational technology jobs." You will get a list of results that can be sorted by location, type of institution, or other factors.
Another way to find educational institutions that are hiring is to visit the website of the Association for Educational Communications and Technology (AECT). The AECT is a professional organization that works to promote and advance the field of educational technology. The organization's website includes a job board that lists open positions at educational institutions around the world.
Also Read: Why is Electrical Engineering Hard?
4. Technology companies
Many technology companies work with educational institutions to provide them with the latest technology. These companies are always in need of individuals who are skilled in educational technology.
IBM, for example, is a leader in information technology. It has a long history of developing innovative products and services to support learning. IBM has a strong commitment to education, and its Corporate Service Corps program sends IBM employees to work on education projects in developing countries. However, it is far from being job-specific, and it can be a great hurdle to finding a job in educational technology at IBM.
Other tech companies, such as Microsoft and Google, have divisions devoted to education. These companies are more likely to have educational technology jobs. Microsoft's Education Solutions group, for example, is responsible for developing and delivering education solutions and services. Google's education initiatives include Google for Education, which provides tools and resources for educators, and Google Classroom, a free service for schools that allows teachers to create and manage classes.
5. Government agencies
Government agencies are responsible for the education of children in the public school system. The main advantage of working for a government agency is job security.
Working for a government agency has its pros and cons. On the plus side, you have job security and good benefits. However, the work can be bureaucratic and the pay is not as high as it is in the private sector. Actually, it can be quite low.
Finally, don't forget to check the salary range for each EdTech job that you are interested in. These jobs can be very well-paying, but there is a wide range of salaries in the field. According to salary's official website, Ed-Tech jobs pay an average salary of $109,056 in the US. The average salaries for different professionals range from $47,623 to a whopping $192,341.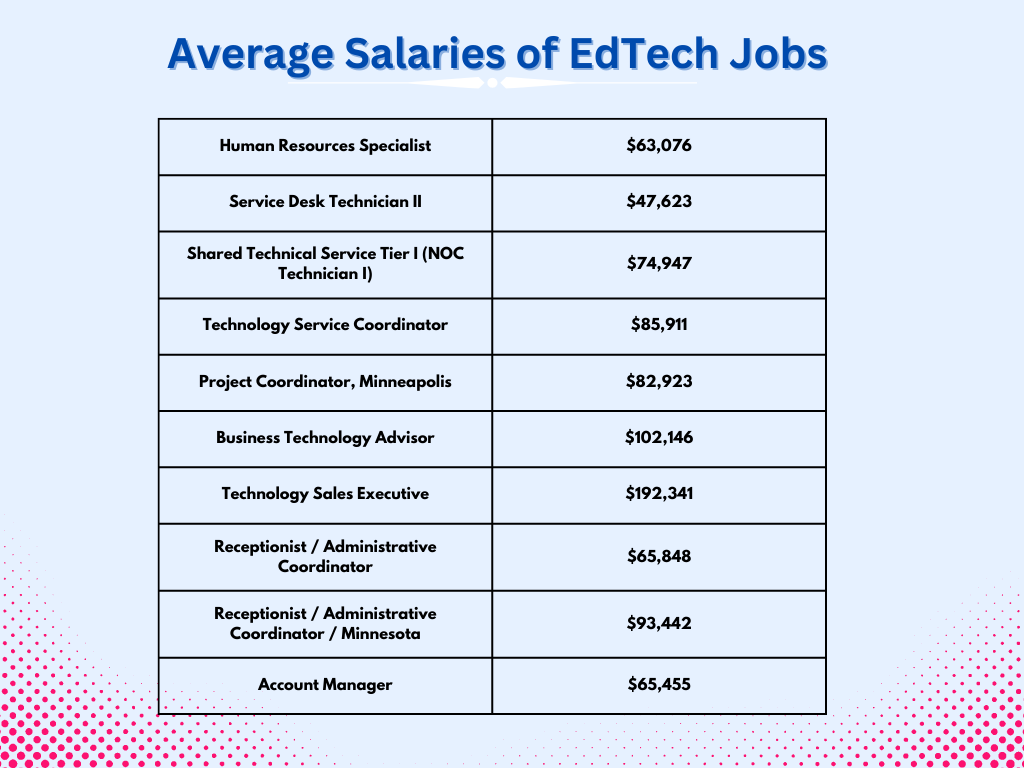 The best Education Technology job boards are those that are dedicated to EdTech.

Although the competition is stiff, following these tips will give you a much better chance at success. With a little bit of research and perseverance, you can find the education technology job you've been dreaming of. Just keep trying.