Most electric toothbrushes are not made for Children under the age of 3, unless otherwise stated.
An electric toothbrush is a toothbrush using electricity to move the bristles. Such toothbrushes can come up in many ways. For example, it can be a sonic toothbrush, an ultrasonic brush or even one that uses UV light to kill bacteria. A 40-year-old man who has a lot of plaque on his teeth may want a toothbrush with a pressure sensor. A young woman with sensitive gums might prefer a toothbrush that uses UV light or sonic waves to get rid of the traditional brush head. The best way to find out the most suitable for you is by asking for your dentist's recommendation. If your dentist recommends using one type over another then go ahead and follow his/her advice. However, that's not all. There are many different types available in the electric toothbrush market.
Why Prefer an Electric Toothbrush Over Traditional?
A manual toothbrush is frustrating to use. You have to put in a lot of elbow grease to get your teeth clean. An electric toothbrush, on the other hand, does all the work for you. Just put the brush in your mouth and let it do its thing. Electric toothbrushes are also better at getting rid of plaque and tartar. Plaque is a sticky film of bacteria that forms on your teeth. Tartar is plaque that has hardened onto your teeth.
Electric toothbrushes are also more fun to use. They come in a variety of colors and styles. Some toothbrushes are fancy, like the ones that genuinely have a timer, for 2-minute-brushing-session. A timer in an electric toothbrush, for some, is like RGB in a gaming PC; nothing but a feature. So, finding which one works best might take some trial-and-error before settling down into something permanent.
If you're looking for a modern way to brush your teeth, an electric toothbrush is the way to go. And to be more precise with that, we've selected the best electric toothbrushes for each group of people.
Oral-B iO Series 4 – For Those Who Don't Know Where to Start
Hygienest-Approved
The Oral-B iO4 electric toothbrush is perfect for anyone who is looking for a complete clean. With 4 smart modes and a 2 minute timer, this toothbrush is perfect for a personalized brushing experience. The pressure sensor indicates optimal cleaning pressure and warns of over pressure. The inclusion of a travel case is not a bid deal for a reputable electric toothbrush brand like Oral-b. However, the round head and gentle micro-vibrations of this toothbrush make for a smooth and harmonious cleaning experience. On top of that, it is dental hygienist approved. This means a lot, especially for those who are just upgrading from a manual toothbrush to electric, and know very less about what they're doing. For $60, this is a pretty good electric toothbrush to start with.
Budget's best friend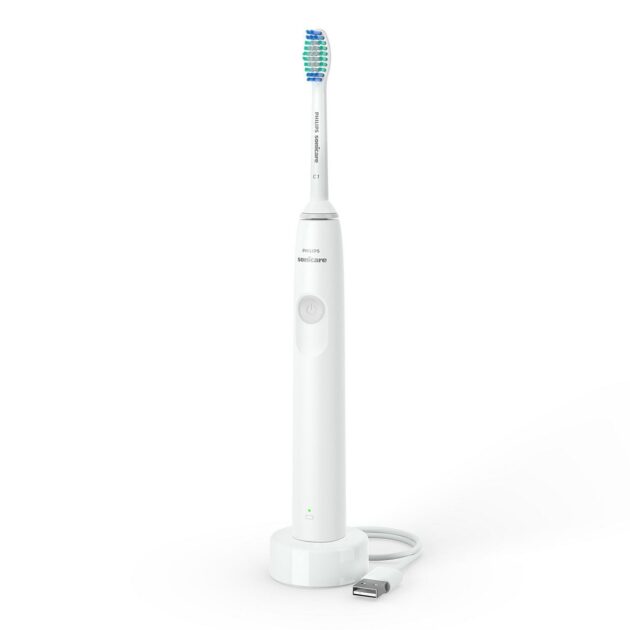 The Philips Sonicare 1100 Rechargeable Electric Toothbrush is a great choice for those who want a simple toothbrush that is electric. Its easy start program and timers help you to get into the habit of brushing your teeth thoroughly, and the rechargeable battery lasts up to 14 days between charges. The brush head clicks on and off the brush handle for a secure fit and easy maintenance and cleaning. The $20 toothbrush, due to its budget-friendly price, is a great choice for a wide range of individuals. However, a con of the product is that it does not come with a case. However, if you are not a traveler, there is not much need of a travel case anyways. But if you still need one, you will have to purchase one separately to protect your toothbrush. Here is the recommended travel case for your Philips Sonicare 1100.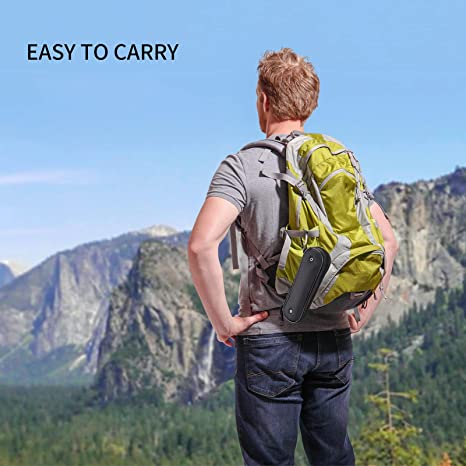 If you decide to buy the travel case, Philips Sonicare 1100 will cost you a total of $32 ($20 for the toothbrush, $12 for the case). So, if you are at a super-low budget and travel frequently, do consider that.
Designed by Dental Pros for Kids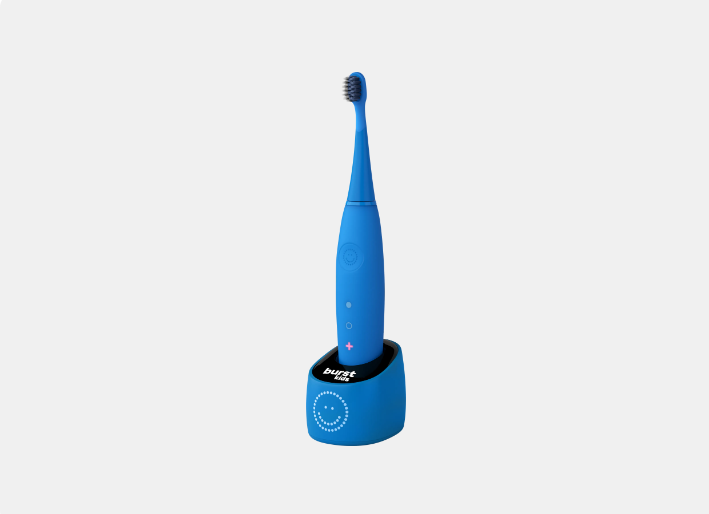 BURSTkids brushes are so cute; perfectly suited for kids. Not only due to its cuteness, but the BURSTkids Sonic Toothbrush was also designed by dental professionals to be easy for children to use, giving them a better clean than a manual toothbrush. An average electric toothbrush vibrates 24,000 – 40,000 strokes per minute. With 31,000 sonic vibrations per minute, this toothbrush does the job pretty fine. A big plus about this BURSTkids Sonic Toothbrush is 26 times better plague reduction than any normal toothbrush. It will make sure your little one's teeth are as clean as can be! Such a better plague reduction was made possible due to a test with 1000s of BURST Ambassador Dental Professionals. And it seems to be true, as 96% of parents who bought the product reported that it was easy for their child to use. A child says something is easy when the toothbrush is making their teeth comfortable, when they can actually do it, and have fun doing it at the same time. And that is exactly what BURSTkids Sonic Toothbrush offers. We had to select this one.
They also have a similar package of electric toothbrush for (2+) kids that includes access to exclusive CoComelon video content.
Victool Pet – Electric Toothbrush for Dogs
Bugdet-Friendly Dog Toothbrush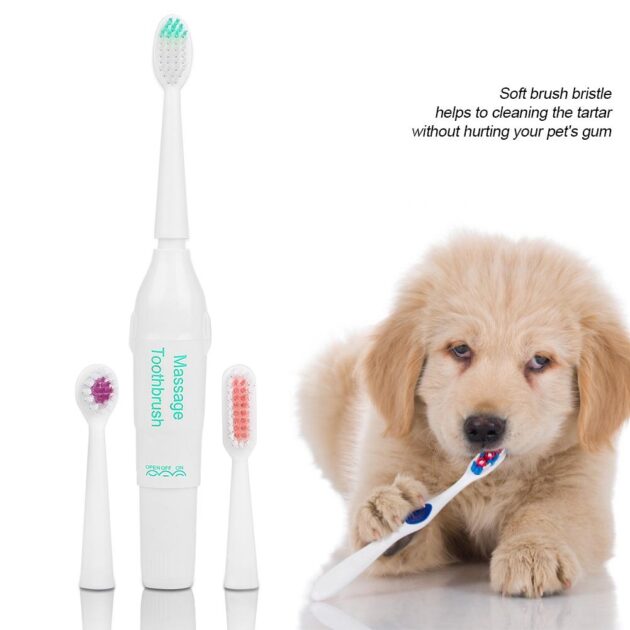 The Victool Pet Dog Electric Toothbrush is perfect for those who want to make sure their furry friend's teeth are properly cleaned. This toothbrush has 2 brush heads for replacement and is made with soft bristles to help clean the tartar without hurting your pet's gum. Also, this toothbrush is easy to use and is battery-operated. You do not have to break your bank to buy this toothbrush as it is available at Walmart for $11. Although there are other expensive options, not everybody can afford to spend $100 for a toothbrush for their dog. Considering the features, it is a great toothbrush for the price. The Victool Pet Dog Electric Toothbrush is not for those who are not willing to spend time brushing their dog's teeth.
If you want more comfort while brushing your dog's teeth, that's what you pay the additional amount for. For more comfort, you can refer to Penn-Plax 360°:
Brush Baby BabySonic – Electric Toothbrush for 1, 2, and 3-Year-Olds
Best for babies, a top-seller since 2014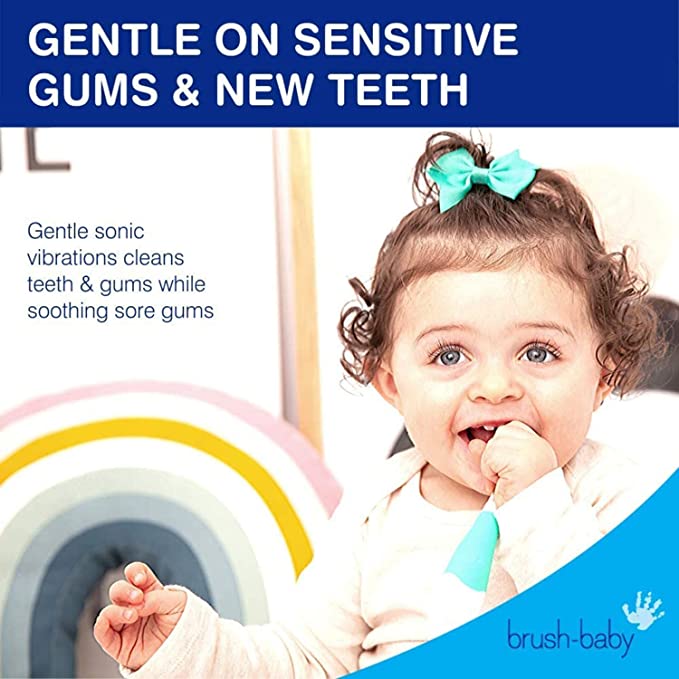 The Brush Baby BabySonic is an electric toothbrush for infants and toddlers aged 0-3 years. The brush features a smart LED timer and gentle vibration to provide a fun brushing experience, and includes 2 sensitive brush heads. The brush is made of BPA-free materials and is waterproof and compact, with a suction base to keep it in an upright position when not in use. One special feature of Brush Baby BabySonic is that it has a small grip and simple ON/OFF button. This makes it possible for your little one to eventually brush on their own. Also, the smart 2 min LED light timer with 30 sec pulse teaches your toddler good brushing habits. The toothbrush's durability and endurance teaches your 1-year-old good brushing habits. Released in 2014, this electric toothbrush is still a top-selling product on the market and has received many positive reviews from new parents.
Oral-B iO Series 9 – Best Electric Toothbrush for Braces
If you/your kids have braces, and want to go electric
The Oral-B iO Series 9 is the most advanced electric toothbrush for healthy gums during and after braces. It combines powerful, but gentle micro-vibrations with Oral-B's unique dentist-inspired round brush head design for a professional clean feeling every day. Furthermore, it has a built-in pressure sensor that protects your gums from over-brushing, and it comes with a charging base that sanitizes your brush head. As an added bonus, the iO Series 9 toothbrush is compatible with the Oral-B app, which gives you personalized brushing routines and tips, and tracks your progress over time.
Related Post: Best Ultrawide Monitors for Each Purpose
Conclusion
So, we've taken a look at the best electric toothbrushes on the market. And the verdict is? There is no one electric toothbrush for all. For you, for your kid, for your dog, or for your budget, the best electric toothbrush is the one that fits you and your needs the most. One thing to keep in mind, however, is electric toothbrushes are not a substitute for good oral hygiene habits. Be sure to brush at least twice a day and floss daily for healthy teeth and gums!