Removing background was difficult to do manually. You had to use a lot of tools and techniques for that. And even then, some parts of the background would remain. In worse cases, the actual image or video's tiny portion would be cut too. So, using professional background removal services like Flatworld Solutions was a must in the past.
But in 2022, the job of background removal has become easier. A single click is all it needs to remove a background. Furthermore, you can also add a new background to the image or video. But even now, not all background-removing softwares are equally good. For example, some of them are good for removing background from images, but you can't add a new background. Some image background removers are unable to remove video backgrounds and vice versa. Furthermore, some are good for removing background from a specific type of image or video.
In this article, we will select the best background removers for photo and video. But that is not really enough. We'll go into as much detail as we can, because we want you to make an informed decision. And before diving into that, we'll discuss the basis and basics of background removal.
What does a Background Remover Do?
The job of background removers is to remove the background of an object. The object may be in form of image, video, Gif, and sound recording. However, most of the times, the object is in form of image or video. These software use AI to remove the background, which works like this:
Step 1 – Detects the object: In order to remove the background, the software first needs to detect the object. For this purpose, it uses a technique called edge detection. This technique finds the boundaries of an object.
Step 2 – Creates a mask: Once the software has found the boundaries of the object, it creates a mask. For complex objects, the software may create multiple masks. Like, a video of a person walking may have a different mask for the person's body, head, and hair. In a video, motion tracking keeps the mask in place as the object moves.
Step 3 – Removes the background: Once the mask is in place, the software can remove the background. First part involves cutting out the object from the background or by blurring the background. Then, it can create the effect of removing the background. In most of the cases, the software uses a combination of both these techniques.
Can I Remove Background Myself?
Yes, the modern background-removing softwares allow you to remove background yourself. However, using advanced tools like Photoshop, you can remove background more professionally. To use technical features of Photoshop, you need to have a good knowledge of the software. Normal softwares do the job pretty good for a fair range of usage. Big YouTubers, filmmakers, and photographers are the ones who use advanced tools. Professional meme creators, and those who need to remove background for daily usage, use normal software. Removing the background of an image or video is a good way to make it more professional.
Things to Consider Before/While Removing Backgrounds
A good practice while using a video or image background remover is to always keep a backup of the original file. This is just in case something goes wrong with the process or you accidentally delete something you need.
Make sure the file you are removing the background from is in an editable format.
If you are removing a background from an image, be sure that the image is high quality. The last thing you want is a fuzzy or pixilated image after you have removed the background.
Different background removal tools are good for different people. Don't overpay for the included features that you don't need.
Be patient. Depending on the size and complexity of the file you are working with, removing a background can take some time.
Have fun! Removing backgrounds is always a creative process, so enjoy it.
Here are the best background removers for photo and video. We have selected them based on Ease of use, Output quality, features, support, price, and few characteristics.
36Pix – Bulk Image Background Removal
Best for bulk background removal
Reputable company, in business for 20 years
Manual removal/hire professionals
The 36pix background remover platform is the world's best professional portrait background removal software. The company has been improving algorithms for 20 years to push the technology even further. Today, the software is used by over 17 million people globally. A simple click of a button to remove green or blue screen from photos is all you need to perform. 36Pix is able to keep up with expanding customer base thanks to their knockout algorithm and fast turnaround time. Their ChromaStar algorithm preserves fine detail and carries transparencies to the new background. The company offers a full-service background removal option for high-volume photography within 2 business days. In fact. many professional photographers, including Jim Kelm, Harri, Marco Photo Service, Barksdale, and BNL Enterprises use the software. So, you're just going with the trend.
Adobe Express – Free image Background Remover
Free, no credit card required
Easiest image background removal service
Manual removal
The Adobe Express Background Remover is the most popular tool for creating transparent backgrounds. Other than that, you can easily refine subject edges, or add new backdrops with Adobe. It's free to use, and there's no credit card required. The app is easy to use – simply upload your photo and the app will remove the background in an instant. You can then download the new image as a PNG file with a transparent background. With a transparent background, you can put your subject in a completely new environment. The app also has a paid library of over 100,000 templates and assets to start from. For $9.99/mo you can turn your edited image into anything you can imagine.
Adobe Stock – Image and Video Background Removal for Pro
Best for professional object background removers and freelancers
Expensive
Manual background removal/professional help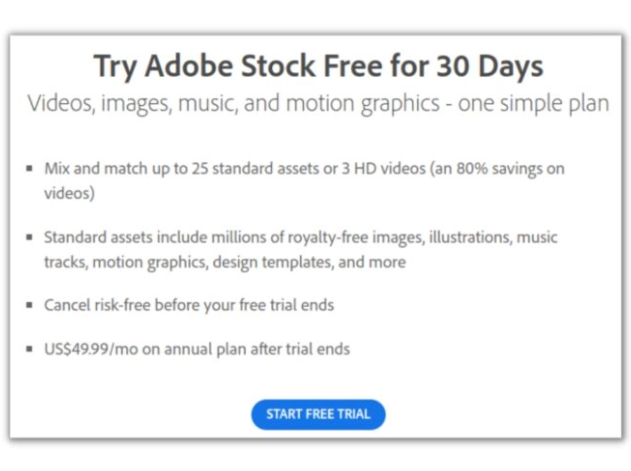 Adobe Stock is an online library of videos, images, music, and motion graphics. With one simple plan, you can mix and match up to 25 standard assets or 3 HD videos. Standard assets include millions of royalty-free images, illustrations, music tracks, motion graphics, design templates, and more. You can cancel risk-free before your free trial ends. After your trial ends, it's US$49.99/mo on annual plan. They make it easy and affordable to find the perfect asset for your next creative project. Apart from removing photo and video backgrounds, it offers a wide range of features including color correction and image cropping. Any professional or amateur photographer or videographer can find what they need on Adobe Stock. Annually, $600 may seem like a lot of money. You can try it for free 30 days before deciding if it's worth it.
Canva – All-in-One Graphics Design and Object Removal
Best for most people
Affordable
Good price-to-value ratio
90+ million stock images and videos from gettyimages included
Manual background removal
Canva is the best option for most people when it comes to graphics designing and background removal. For $99 an year, Canva Pro offers a lot of features. They have always been providing an image background removal service. Recently, they have released a beta version of video background removal. Canva is a great tool for beginners. Many professionals, who have been using Canva from the beginning, still use it. Affordability is not the only factor here. With a user base in more than 190 countries, the platform had 75 Million users by the end of 2021. After the inclusion of newer services including background removal this year, the number of users has increased to 100 million. If you don't use Canva, you are either a hardcore professional, or just not into graphics designing.
Fotor – Free and Emerging Image Background Remover
Emerging software with a lot of features available
Free of cost
Unstable Reviews on Different Platforms
Manual background removal
Fotor offers a wide range of features for users to manipulate their photos including a user-friendly AI background remover. The software is available on windows and mac. Fotor's HDR feature is also available on many versions including mobile, which is a great addition. Features like 1-tap enhance, RAW file processing, and the ability to handle complex edges make Fotor a great choice for new YouTubers, to create a luring thumbnail by removing and re-editing backgrounds for free. Fotor's theme looks too similar to Canva, so some users might get confused between the two. The reviews for fotor are inconsistent on different platforms. They have a rating of 4.5 on techradar, 4.2 on getapp, 4.2 on capterra, and 1.4 on trustpilot. While it may sound alarming for some, given that Fotor is a free software, it's still worth trying out. After all, you don't have anything to lose.
Kaleido.ai – Has Specified Platforms for Photo and Video Removal
kaleido.ai is continuously developing new concepts to create visual AI solutions that transform the way you work. They have both photo and video editing and background removal platforms. The websites are separate for both the services and both are service-specific.
Specified platform for image background removal
Automatic background removal
Sharpest
Good for freelancers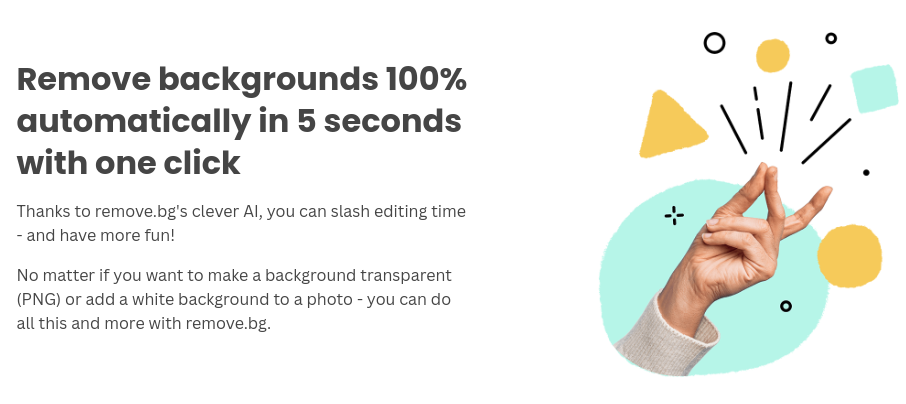 kaleido.ai's remove.bg has the sharpest background removal tool among all the competitors. It means that you can get a high-quality cutout in just a few seconds. Also, with remove.bg, no important part of your image gets cut, and no unnecessary background residuals are left. A specific platform for background removal, remove.bg is perfect for photographers, marketing, eCommerce, media, and more. Their pricing is also affordable, as their subscription plan starts at $0.12 per image with 40 monthly credits. For one-time background removals, if you don't want to pay Canva the whole $99, you can choose it straightaway. This bg-removal platform from kaleido.ai is good for freelancers who are specified in the background removal field.
Specified platform for video background removal
Automatic background removal
This is a great tool for anyone who wants to remove video backgrounds without a lot of hassle. The process is completely automated, so you don't have to worry about a thing. Just shoot your footage and upload it, and Unscreen will take care of the rest. The result videos results are high-quality and look great. You can use the platform for personal or commercial use. There is a subscription plan that starts at $1.98 per video minute. Again, as it is a specified platform for video background removal. Unscreen is good for one-time use, and for people unfamiliar with video editing. However, if you are a pro, you may want to choose adobe stock to remove background and re-edit the video.
Deelvin – Removes Photo Backgrounds to Create Videos
Convert images into videos by removing background
Serving in 214 countries
Manual + automatic background removal

Deelvin's image and video background removers have changed over 21 million backgrounds. The AI does a great job of automatically removing backgrounds, and the free version is sufficient for most users. There are some limitations to the software, such as the need for a clear silhouette and no hectic movement. Reviews from users are mostly positive, with people citing the quick and easy removal of backgrounds. If that was not enough for you, Deelvin can also create videos out of photos whose backgrounds were removed. You heard it right. It's a great plus for anyone who wants to create marketing videos or TikToks. While Canva can do that to an extent, you have to remove the background and replace manually with video. Deelvin can do all of that for you with just a few clicks, and with better quality.
Also Read: Eye-lens software to give you a "super-human" vision?
Bottom Line
Removing background may be for some, the first step in starting their creative journey. For others, it's a way to take their creativity to the next level. It's all about creativity, though. You may also be using it for a research project or for your next social media post. But you still need to be creative with your design. As some background removers are free and easy to use, there's really no excuse not to try one out. Some have both image and video background removal services, and some have further features for post-background-removal. Don't get too serious or bogged down with the details, just try one out and see what you can create.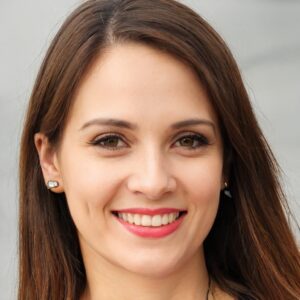 Britney Foster completed her degree in AI from Imperial College London in 2020. Britney, 27, is now a part time writer and student. She has previously had a career as an actress and an aerialist before deciding to take up writing. When she is not learning or writing you can find her doing yoga, going to the gym or playing board games with friends. Brit strictly hates when someone says "the future". She considers herself a futurist and believes that there is no such thing as future yet.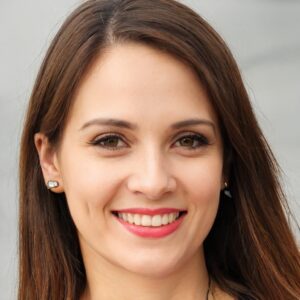 Latest posts by Britney Foster
(see all)