Google's AI Parti relies on over 20 billion inputs to create photorealistic images
A cou­ple of months ago, Google pre­sent­ed anoth­er exam­ple of its keen inter­est, trust and heavy invest­ment in arti­fi­cial intel­li­gence (AI). Path­ways Autore­gres­sive Text-to-Image (Par­ti), which Google revealed on June 23, 2022, is Google's newest text-to-image gen­er­a­tor AI that relies on 20 bil­lion inputs to cre­ate pho­to­re­al­is­tic images and can 'accu­rate­ly reflect world knowledge'
While Ima­gen and DALL·E 2 are dif­fu­sion mod­els, Par­ti fol­lows in DALL·E's foot­steps as an autore­gres­sive mod­el. Although archi­tec­ture and train­ing method may dif­fer, the objec­tive of all these mod­els, includ­ing Par­ti, is to gen­er­ate detailed images based on the user's text input.
What is the working process of the "Parti model"?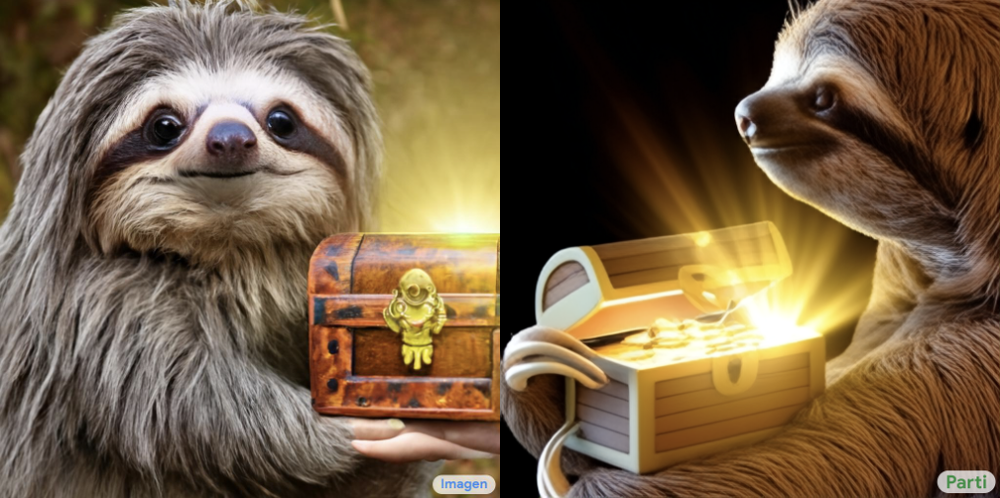 In the begin­ning, Parti's approach con­verts a col­lec­tion of images into a sequence of code entries, sim­i­lar to puz­zle pieces. Then, it trans­late a giv­en text prompt into these code entries and cre­ates a new image.
The process trains com­put­er mod­els by adding "noise" to an image so that it's obscured; it's like sta­t­ic on a tele­vi­sion screen. The mod­el then learns to decode the sta­t­ic to re-cre­ate the orig­i­nal image. As the mod­el improves, it can turn what looks like a series of ran­dom dots into an image.
Accord­ing to Google, Par­ti text-to-image com­put­er mod­el ren­ders hyper­re­al­is­tic images by study­ing tens of bil­lions of inputs. It stud­ies sets of images, which Google calls "image tokens," using them to con­struct new images. Par­ti's images become more real­is­tic when it has more para­me­ters — tokens and oth­er train­ing mate­r­i­al — to review. The mod­el stud­ies 20 bil­lion para­me­ters before gen­er­at­ing a final image.
Par­ti uses an autore­gres­sive mod­el that, accord­ing to Google, can "ben­e­fit from advances in large lan­guage mod­els." On the oth­er hand, Ima­gen uses Dif­fu­sion, where the mod­el learns to con­vert a pat­tern of ran­dom dots into images.
Researchers cre­at­ed four mod­el sizes of Par­ti. The mod­els include para­me­ter counts at 350 mil­lion, 750 mil­lion, 3 bil­lion, and 20 bil­lion. They trained those mod­els using Google Cloud TPUs which were able to eas­i­ly sup­port the cre­ation of these huge mod­el sizes. Sev­er­al com­par­isons between the mod­el sizes are pro­vid­ed on the website.
Sim­i­lar to all the oth­er text-to-image gen­er­a­tors out there, Par­ti also strug­gles in a vari­ety of sim­i­lar ways like incor­rect object counts, blend­ed fea­tures, incor­rect rela­tion­al posi­tion­ing or size, not han­dling nega­tion cor­rect­ly and so on.
Related Reading:
Like Ima­gen, Google has decid­ed not to release Parti's "mod­els, code, or data for pub­lic use with­out fur­ther safe­guards in place." And, all images are water­marked in the bot­tom-right corner.
Cur­rent mod­els like Par­ti are trained on large, often noisy, image-text datasets that are known to con­tain bias­es regard­ing peo­ple of dif­fer­ent back­grounds. This leads such mod­els, includ­ing Par­ti, to pro­duce stereo­typ­i­cal rep­re­sen­ta­tions of, for exam­ple, peo­ple described as lawyers, flight atten­dants, home­mak­ers, and so on, and to reflect West­ern bias­es for events such as weddings.
Google is explor­ing this area and says tools like these can unlock joint human/computer cre­ativ­i­ty. Google wrote on its blog, "Our goal is to bring user expe­ri­ences based on these mod­els to the world in a safe, respon­si­ble way that will inspire creativity".
"Text-to-image mod­els are excit­ing tools for inspi­ra­tion and cre­ativ­i­ty. They also come with risks relat­ed to dis­in­for­ma­tion, bias and safe­ty. We're hav­ing dis­cus­sions around Respon­si­ble AI prac­tices and the nec­es­sary steps to safe­ly pur­sue this tech­nol­o­gy", Google added.
Will Parti be available publicly?
No. Google isn't cur­rent­ly releas­ing Par­ti or Ima­gen to the pub­lic because AI data sets car­ry the risk for bias. Because human beings cre­ate the data sets, they can inad­ver­tent­ly lean into stereo­types or mis­rep­re­sent cer­tain groups. Google says both Par­ti and Ima­gen car­ry bias toward West­ern stereotypes.
Stat­ing that these mod­els have many lim­i­ta­tions, Google writes, "nei­ther they can reli­ably pro­duce spe­cif­ic counts of objects (e.g. "ten apples"), nor place them cor­rect­ly based on spe­cif­ic spa­tial descrip­tions (e.g. "a red sphere to the left of a blue block with a yel­low tri­an­gle on it")".
Accord­ing to Google, these behav­iors are a result of sev­er­al short­com­ings, includ­ing lack of explic­it train­ing mate­r­i­al, lim­it­ed data rep­re­sen­ta­tion, and lack of 3D aware­ness. "We hope to address these gaps through broad­er rep­re­sen­ta­tions and more effec­tive inte­gra­tion into the text-to-image gen­er­a­tion process", Google has written.
At its I/O devel­op­er con­fer­ence in May, CEO Sun­dar Pichai said AI is being used to help Google Trans­late add lan­guages, cre­ate 3D images in Maps and con­dense doc­u­ments into quick sum­maries. "The progress we've made is because of our years of invest­ment in advanced tech­nolo­gies, from AI to the tech­ni­cal infra­struc­ture that pow­ers it all", said Pichai.
Par­ti and Ima­gen aren't the only text-to-image mod­els around. Dall‑E, VQ-GAN+CLIP and Latent Dif­fu­sion Mod­els are oth­er non-Google text-to-image mod­els that have recent­ly made head­lines. Dall‑E Mini is an open-source text-to-image AI that's avail­able to the pub­lic, but is trained on small­er datasets.
Rec­om­mend­ed:
Investment in AI
Google has invest­ed heav­i­ly in arti­fi­cial intel­li­gence (AI) as a way to improve its ser­vices and devel­op ambi­ent com­put­ing, a form of tech­nol­o­gy so intu­itive it becomes part of the back­ground. As per a report on Apr 13, 2022, Google was to invest $9.5 bil­lion in US data cen­ters, offices — AI Busi­ness. In 2021, the glob­al total cor­po­rate invest­ment in arti­fi­cial intel­li­gence (AI) had reached almost 94 bil­lion U.S. dol­lars, a sig­nif­i­cant increase from the pre­vi­ous year.
Ama­zon and IBM are two of the biggest com­pa­nies invest­ing in AI. With Evi Tech­nolo­gies in 2012, when William Tun­stall-Pedoe first built "Evi," a vir­tu­al assis­tant, he then did­n't know that she would even­tu­al­ly become "Alexa." One year lat­er, Ama­zon bought the Cam­bridge, Eng­land-based com­pa­ny for more than $26 mil­lion, even­tu­al­ly using its A.I. On the oth­er hand, IBM has been a leader in the field of arti­fi­cial intel­li­gence since the 1950s. The com­pa­ny exten­sive­ly invest­ed in its cloud and AI ser­vices, with an invest­ment of US$3.3 bil­lion in net cap­i­tal expenditures.
Conclusion
This shows that the future of arti­fi­cial intel­li­gence is still a big ques­tion, and this is why Google has not released Par­ti or Ima­gen to the pub­lic. Researchers and com­pa­nies are still find­ing ways on how to make AI more user-friend­ly and bias-free.
Data from both vari­ables will be of immense impor­tance, but there may also be eth­i­cal issues too. Research, along with eth­i­cal con­cerns can still be mean­ing­ful in tack­ling these ques­tions, as long as it's prop­er­ly done in a safe environment.